Unique Indonesian Earrings Of Silver, Crystal, And Garnet
$28.00
Description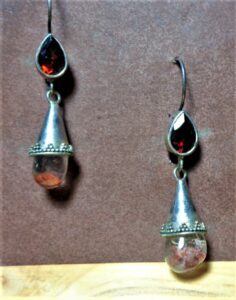 Here you'll find an unusual example of Indonesian silver work. These earrings are made in two parts.
The top piece features a deep-red faceted garnet, teardrop-shaped, with the point of the teardrop at the top. These garnets are set in a deep bezel of sterling silver. A hand-made French hook of sterling wire is soldered to the back of the point of the garnet's bezel.
The bottom piece, attached to the top with two small loops, is a cone-shaped finding, pointed at top and flaired at the bottom to hold the stone that's set there. Rimming the lower edge of the cone is a triangle-shaped design of granulated silver drops.
The crystal that resides in the cone-shaped finding is highly unusual. In the bottom of the clear crystal piece resides a small area of red. Perhaps, like with clear quartz crystals, another stone grows there. If any of you know an explanation for this deviation from normal, please let us know in the comments below.
These earrings measure 1-1/2 inches long. At the widest point of the silver cone, they measure 1/4 inch across.
Only logged in customers who have purchased this product may leave a review.