Tomas Jewelry Sterling Posts Feature Heart And Crown
$5.00
Description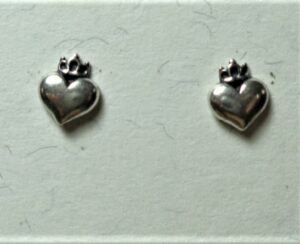 These earrings would be a great accompaniment for an Irish claddagh ring, which shows a heart with a crown above it and two hands holding it. The meaning of this ring is "I hold your heart in my hand and crown it with my love." Wouldn't these crowned hearts fit well with that ring?
These small post earrings are sterling silver, brought to us by Tomas Jewelry. The wire on the post is also sterling. Give these to someone special as a token of your love.
Only logged in customers who have purchased this product may leave a review.