Tasteful Peruvian Beads, Onyx, Bone Fish In Beaded Necklace
$9.00
Description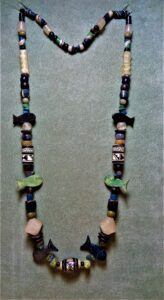 This necklace came in as a trade, and this one is not new. It was made by a friend of mine, Joanne Van Wyck, who is now deceased. Joanne was noted for her colorful and attractive bead pieces.
The bottom center bead and the two large black and white tube beads about half-way up, were first hand-made in Peru. The carved fish are made of bone. Onyx beads and other small colored beads blend to make an attractive whole.
This necklace measures 28 inches long. As it shows some signs of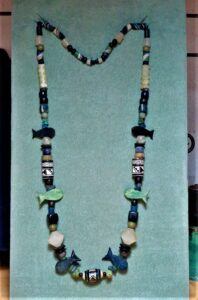 wear, the price has been heavily discounted.
Only logged in customers who have purchased this product may leave a review.