Indonesian Silver Earrings With Rainbow Moonstone And Chalcedony
$35.00
Description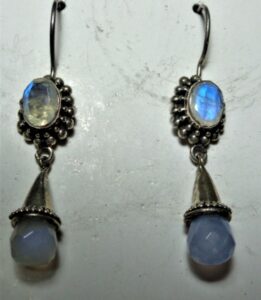 This unique pair of Indonesian earrings demonstrates more of the expert silver-work of Indonesian artisans. This pair, as with the other Indonesian silver earrings introduced here, could have fit into the Bridge Jewelry category, but because of its neutral color and its ability to enhance any garment, I have placed this pair in with Costume Jewelry .
The earring consists of two sections. The top section features a rainbow moonstone set in a bezel surrounded by two rows of small, hand-soldered silver beads. The stone is faceted, and is actually an elongated oval shape, measuring 5/16 inch long by 1/4 inch wide.
The handmade sterling French wire is soldered to the top piece.
A small ring attaches the bottom piece of the earring to the top. The bottom silver piece is shaped like a dunce's hat, smooth from the point down to the edge, which is set off by a row of tiny granulated silver beads, encircling the stone, which is set in this silver cap.
The stone is chalcedony, a gem from the quartz group, often marked by this bluish color. The faceted chalcedony appears as a ball at the base of the cap, and is fastened into it. The stone seems to be smaller at one end, allowing it to fit into its silver setting nicely.
This piece measures 3/4 inch long from the top of the silver to the base of the stone. The whole earring measures 1-3/8 inches long. Regular retail on this pair was $53.00. Grab these bargains while you can.
Only logged in customers who have purchased this product may leave a review.