Green And Blue Rhinestone Necklace Can Light Up The Evening
$18.00
Out of stock
Description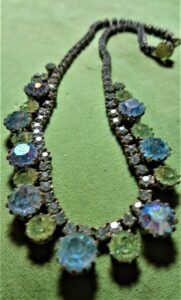 This lovely vintage necklace is formed of green and blue rhinestones. To add sparkle, two of the blue stones have an Aurora Borealis finish.
The company name "Weiss" is stamped on the jewelry connecting piece at one end. No stones are missing. The necklace measures 16 inches long.
Again, this piece is probably worth quite a bit more than the price I've given it.
This simple yet elegant necklace of green and blue stones could make the perfect accessory for a dressy outfit.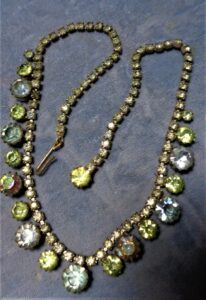 Only logged in customers who have purchased this product may leave a review.