Stunning Labradorite Pendant Topped With Malachite/Azurite Stone
$46.00
Description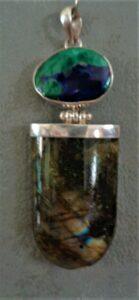 Labradorite is so amazing because of the glints of light and color that illuminate it when you turn it in the light. This hand-made pendant sports plain silver bezels, so they will not detract from the stone.
The gorgeous tongue pendant adds a little purple and a little gold color when the light hits it just right. The irregular-shaped stone at the top is a conglomerate of malachite and azurite, to add to the color of this piece. The plain bale at top is sterling.
The labradorite section of this pendant measures 1-1/2 inches long and 7/8 inch wide. The malachite/azurite stone at the top measures 3/4 inch wide by 1/2 inch tall. The two pieces are attached by an elaborate hand-made hinge.
Wow your friends and acquaintances when you wear this outstanding tongue pendant.
Only logged in customers who have purchased this product may leave a review.