Sterling Silver Outlines A Curvy Diamond Shape, French Hook Earrings
$25.00
Description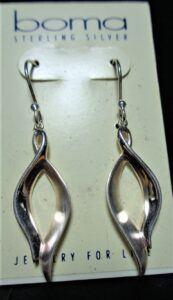 From Boma Jewelry in Washington come these sterling earrings in a curvy diamond shape. A ribbon of silver serves as an outline for the free-form diamond. The center of the earring inside the silver border is open.
French hook wires are sterling silver. The back of the earring is stamped "925" and "Boma."
These earrings measure 1-1/8 inches long and 3/8 inch wide at the widest point.
The plain polished silver adds an elegant look to this pair
Only logged in customers who have purchased this product may leave a review.