Sterling, Lapis Blueberry Necklace By Judie Gumm Of Alaska
$35.00
Description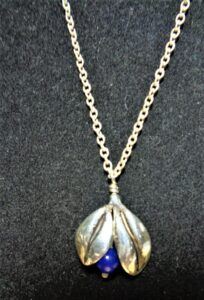 Judie Gumm, one of my favorite Alaskan artists, has created this necklace celebrating one of our tastiest wild berries — the blueberry.
The leaves of the blueberry are cast from sterling silver, and the round blue bead representing the berry is lapis.
The pendant comes with an 18-inch sterling chain. The pendant itself measures 3/4 inch wide at the widest point and 1/2 inch long. The chain is composed of tiny loops, modeling a larger chain.
This sweet tribute to Alaskan summer will bring a good reminder of nature in full bloom.
Only logged in customers who have purchased this product may leave a review.