Sparkly, Lightweight Beaded Necklace From Pink House
$11.00
Out of stock
Description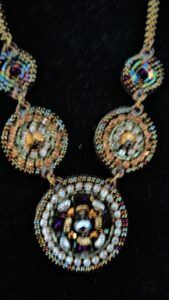 This interesting handmade necklace was made in India, and comes to us through Pink House.
Purples and golds set the predominating colors. Each graduated set of circles has a different design and color scheme. Each circle is finished at the edge with a smooth row of small beads, side by side around the rim of the circle.
The necklace is quite light-weight, as about the only metal used occurs in the chain, a double row of tiny beads. One reason for the lightness of this piece comes from the fact that the backings for the round circles are pieces of leather.
The necklace, from the bottom of the biggest circle to the clasp measures
20 inches. At the end of the chain, you'll see an inch-long set of joined metal loops, allowing you to add an inch to the necklace's length.
If you look at earlier Bargain Trunk selections, you will find a pair of earrings that are an almost-match for $4.00.
My pictures do not do these pieces justice, as for some reason, the sparkle doesn't come through. Let me assure you — It is there.
Only logged in customers who have purchased this product may leave a review.