Paparazzi Blue-Green Necklace, Bracelet, Two Earring Styles
$8.00
Description
With this Paparazzi set, you get the full meal deal. There's a necklace, bracelet, and two styles of earrings, all for one price.
The beads on the necklace and bracelet alternate between large, round rough-finished silver-colored beads and large beads of a pale blue-green color — You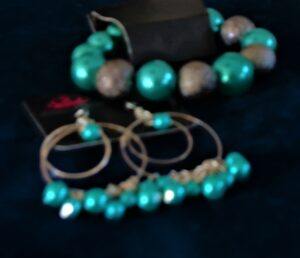 might call them "ocean spray green."
Beads on the necklace start at 8.5 mm and go up to 12 mm at center front. Bradelet beads appear to be 11 mm, with one 12 mm bead at center front. The necklace contains four of the rough-textured silver-colored beads and the bracelet has three. There are no silver beads on the earrings.
The chain on the necklace is formed of large links that have a shiny black finish.
The pair of earrings with the necklace have a single round green bead, 11 mm in size. Earring wires are French hooks. The second pair of earrings, also on French hooks, have smaller green beads that dangle from double silver rings.
The necklace measures 18 inches long, with the tradition 2-1/2 inch extender, if you want it longer. The bracelet is on elastic, and appears to be seven inches long. With the elastic, I am guessing it could also fit a slightly larger wrist as well.
This set is new, and the color is delicious.
Only logged in customers who have purchased this product may leave a review.