Sparkling Cubic Zirconia Ring Has The Look Of A Real Diamond
$9.00
Description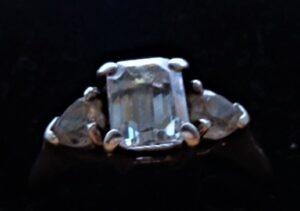 The CZ, or cubic zirconia, is an inexpensive diamond alternative with many of the same qualities as a diamond. This crystalline material is synthetic (created in a lab.) It can be used in the same popular cuts and shapes that are used for diamonds and colored gemstones.
The ring featuresa large square-cut cubic zirconia in the center and two small diamond-shaped CZ stones, one on either side of the central square cut. The narrow band is sterling silver.
This ring is a size 6.
Bear with me, folks — I'm still trying to learn how to take good ring pictures, so may replace some of these later when I improve.
Only logged in customers who have purchased this product may leave a review.