Realistic Gold Clip-On Rose Earrings, Sparkly Tiny Accent Stones
$4.00
Description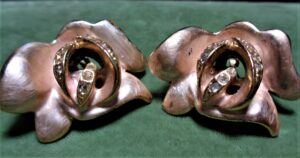 From an estate sale come these pale gold clip-on earrings. The rose's centers are set off with a triple arrangement of sparkly chips — could be cubic zirconia, or perhaps chips of glass. They give the earrings some extra pizazz.
The pale gold color has some pinkish overtones, which is probably why I had to take the pictures of this pair twice. Still not perfect, but close.
If you still wear clip-ons occasionally, this pair would be fun to wear. The earrings measure 1-3/8 inches at their widest point, and one inch high. I can find no maker's mark on this pair.
Only logged in customers who have purchased this product may leave a review.