Small, Substantial Cross Set With Gemstones, Sterling Frame
$39.00
Description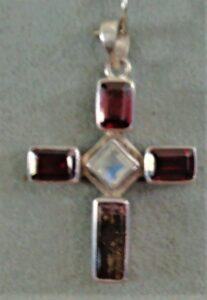 This lovely cross is set with gemstones in a sterling silver framework that measures 3/16 inch deep. The stones are set at the top of this deep frame, and are open at the back to allow the stone to breath. On the back of the cross, the silver frame is flattened and wide enough to add extra protection to the stone.
At the center of the cross is a square rainbow moonstone, set diamond-shaped. The top and the two side pieces of the cross are set with deep red garnets, flat on top but with an edge of the stone above the silver frame.
The bottom long stone includes several colors — predominantly gold with a bit of purple, green and red. I'm not sure what it is, but it might be tourmaline.
A plain sterling bale at the top is attached to a loop of silver set above the frame of the cross.
This fine pendant measures 1-1/2 inches high from the top of the bale to the base of the cross. The width at the arms of the cross measures one inch. This is a very handsome piece of jewelry.
Only logged in customers who have purchased this product may leave a review.