Small Heart-Shaped Rhodonite Post Earrings, Sterling Wires
$24.00
Description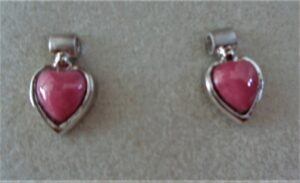 These sweet heart-shaped rhodonite earrings from Jade World will send love out into the world. The post wires are sterling, but the earrings are marked "silver plated."
The small heart earrings come from Jade World in Canada, and the earrings have a "J W" stamp on the back. They match the pendant also shown on this site.
Because of their pink color, they will show up well on your ears, even though small. They measure only 5/16 inch wide and with the small round tube above them, to which the heart attaches, they measure 1/2 inch tall.
Only logged in customers who have purchased this product may leave a review.