Sliding Lid Padauk Secret Box From Heartwood Creations
$9.00
Description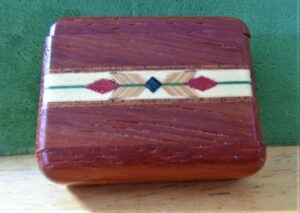 Here you will find another box that Heartwood's catalog lists as two inches long, but it actually measures 1-3/4 inches long, just as the cherry wood box already listed. This one, however, sports a much more exotic wood: Padauk, from Africa.
Just as with the other box, this one measures 1-1/4 inches wide and 1/2 inch deep. It has a sliding lid and also has its own inlaid veneer design on the lid.
You will find it amazing how many uses you can find for these little secret boxes.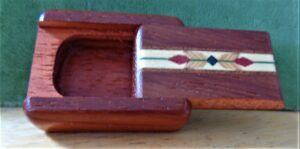 Only logged in customers who have purchased this product may leave a review.