Sale!
Select This Alaska State Bird Pin For Your Lapel Or Hat
Description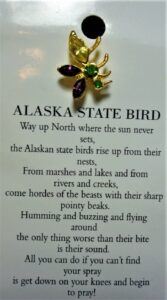 Here's a little jeweled pin created as an Alaskan spoof. The creature represented is our very own prevalent mosquito. In summer, in some parts of our state, it does not pay to step out of your car.
We learned about these pests early on, when traveling in the Fairbanks area. We pulled into a campground and met a swarm of mosquitos the second we stepped out of our vehicle.
We tried crawling in the camper and into our sleeping bags, pulled up around our ears, as by that time the little charmers had gotten into the camper. 'Way too hot on a Fairbanks summer night.
We ended up driving into Fairbanks and parking in the middle of a large parking lot for the night.
This little pin has a gold-colored finding that creates the form of the bug. Small stones of gold, purple, and green add color. It measures 3/4 inch high by 1/2 inch wide. The back is a single post with a gold push-on back.
Believe me, you would make the right choice if you wear this pin instead of meeting up with the real thing!
Only logged in customers who have purchased this product may leave a review.