Cute Fish Earrings In Braised Metal, Surgical Steel French Hooks
$7.00
Description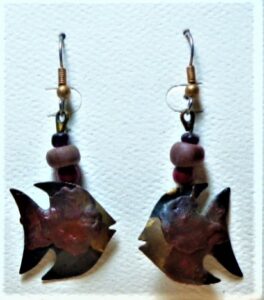 These earrings were taken in trade, and are actually well-worn. Several years ago, I sold them to my friend, who has decided to let me find them a new home.
The earrings were made by another friend, Joanne Van Wyck, from Seattle. She is now deceased, but much of her wonderful jewelry has outlived her.
Braising in gold and brown decorates these black metal fish. Surgical steel earwires have been used. The fish themselves measure one inch wide by one inch high. Three beads, a brown and a red one in wood and one small purple glass bead are added above the fish itself. Total length with the beads is 1-3/4 inches.
Only logged in customers who have purchased this product may leave a review.