Rose Quartz Tongue Pendant, Silver Bezel, Faceted Amethyst
$36.00
Description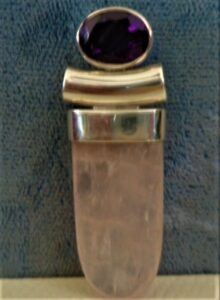 From Indonesia we offer you a smallish tongue pendant of rose quartz. It is set in a smooth, glossy silver finding that features a curved silver tube above it, which holds a chain or cord.
In a second silver bezel above the chain tube is set a deep purple faceted amethyst stone, open at the back so it can breathe.
This attractive and well-finished piece measures 1-1/2 inches from the top of the amethyst to the base of the rose quartz. The tongue measures 1/2 inch across. The amethyst stone measures 3/8 inch wide by 1/4 inch high.
Only logged in customers who have purchased this product may leave a review.