Rhinestone And Pearl Necklace Needs Some TLC From You
$5.00
Description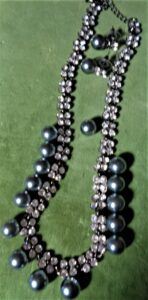 For $5.00 and a little superglue, you can repair this necklace. If you are good at restoring jewelry, this is the piece for you. A double row of rhinestones runs the length of the necklace, which measures 18 inches long.
The lower 1/3 of the two rhinestone rows features grey pearls which have been glued to the findings holding the rhinestones. I doubt they are real pearls, but they have a nice glow.
One of the pearls has come loose, but has been kept for future repair. I'm including it as well as the earrings, one of which is good. I'll add them at no extra charge, as the stones and pearls will give you spare parts.
In fact, one of the small rhinestones is missing from one end of the double rows, and could be replaced with a stone from the earring.
Only logged in customers who have purchased this product may leave a review.