Sale!
Sienna Sky Common Loon Earrings, French Hook Gold-Filled Ear Wires
Out of stock
Description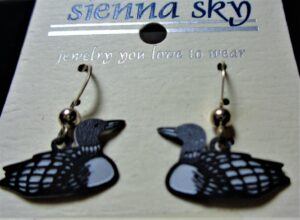 From Sienna Sky in Colorado come these representations of one of my favorite birds, the common loon. This bird's eerie song lets you know when he is nearby. The loon's stunning feathers may amaze you. His fine plumage adorns him beautifully.
These small earrings with a big statement come on gold-filled French hook ear wires. Made of metal, they show the design on the front; the back is black. They are very light-weight.
They measure 3/4 inch long by 1/2 inch wide at their widest point.
Only logged in customers who have purchased this product may leave a review.