Rare Dominican Larimar Pendant, Stones Set In Flower Shape
$68.00
Description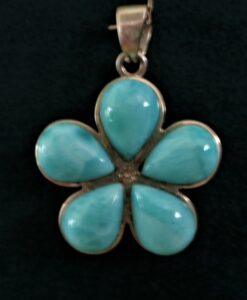 Both the stones in this piece and the  pendant itself are ones you will not see very often. Set in sterling silver with a plain sterling bale, five petal-shaped teardrops of larimar form a one-of-a-kind blue flower.
No two of these stones are alike, even though they are all a beautiful blue larimar.  This captivating flower can enhance many clothing combinations and leave a great impression it its wake.
The silver bezel holding the stones leaves them open at the back so they can breathe. All stones are cut to very close to the same size. These stones measure 1/2 inch long and approximately 1/8 inch wide. From top to bottom, including the bale, the pendant measures 1-3/8 inches long and one inch wide.
Only logged in customers who have purchased this product may leave a review.