Pink House Beaded Bracelet, Turquoise And Red Beads
$9.00
Description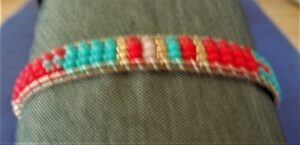 From Pink House in California comes this sweet beaded bracelet. It features a drawstring clasp that will allow you to make this bracelet as large or as small as you wish.
If you had a very large wrist, measuring almost 10 inches around, the bracelet would fit, as it expands to a 10 inch length. However, for a seven-inch or eight-inch average wrist, it can be drawn down to exactly the size you need.
Turquoise and red are the predominant colors, with accents of pink and gold.
This casual jewelry is the kind that's fun to wear. This bracelet is 3/8 inch wide and will fit any number of wrist sizes.
Only logged in customers who have purchased this product may leave a review.