Pin And Catch Hoops, 14K Gold Plate, From Tomas Jewelry
$17.00
Description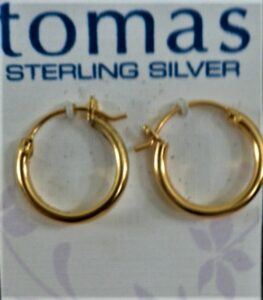 These hoop earrings from Tomas Jewelry will stay in style forever, and will go with countless outfits. Just put them in and forget them. For this week's Costume Jewelry selections, I offer two sizes of gold hoop earrings, both plated with 14K gold over a sterling silver base.
These smaller hoops are about the size of a dime, so I believe they are 16mm. If you prefer to make a small statement, these might suit you perfectly.
For a quality hoop plated in 14K gold, you can't beat this one.
Only logged in customers who have purchased this product may leave a review.