Paparazzi Long Necklace And Earring Set, Olive-Green Stone
$3.00
Description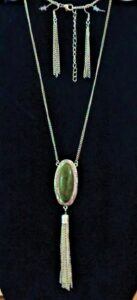 From the Paparazzi Company, check out this set which includes a long necklace and earrings on French hooks. The long silver chain offsets the olive-green stone at the base nicely.
From the base of the stone hang 10 strands of long silver chain, matching the three strands of chain that hang from the French hook wires.
A thimble-like finding holds the 10 strands of silver chain at the end of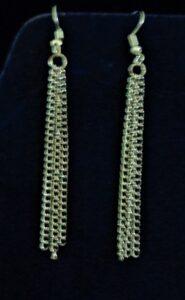 the necklace and, measured with the finding, it comes to 2-3/4 inches long. The chain on the earrings measures two inches long.
This is a very long necklace. From the clasp to the large stone, it forms a 24-inch chain. Loops above the clasp allow you to add 2-3/4 inches to the chain length. Add in the long stone and the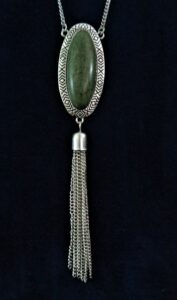 chains beneath it for another five inches of length.
The long oval olive-green stone measures 3/4 inch wide and 1-3/4 inches long. If you like long necklaces, this is the set for you.
Note: Though taken in trade, this set is new.
Only logged in customers who have purchased this product may leave a review.