Oval-Shaped Sterling Western Theme Earrings, Indian Design
$7.00
Description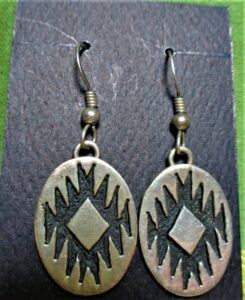 These sterling oval earrings have a shape stamped into the silver that looks like a design from an Indian rug. Sterling French hook ear wires accompany them.
On the back, the earrings are stamped with the name "Jennie" and the word, "sterling." Though simple, they have a classic Indian design.
The oval measures 7/8 inch long by 5/8 inch wide at their widest point.
Only logged in customers who have purchased this product may leave a review.