Sale!
"Nectar Of Life" Sterling Hummingbird Bracelet By Bill Helin
Description
From Metal Arts Group comes this stunning sterling silver bracelet by master artist Bill Helin, who was born in Prince Rupert, B.C., Canada.
Not only does Bill create fine silver-work; he is also a skilled wood carver who worked on the world's largest totem pole. This pole stands in Victoria, B.C.
The hummingbird and flower design is raised from the surface, much as a hand casting would be. Details of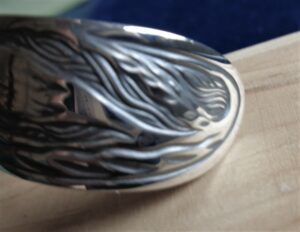 the plant and the hummingbird's tail stand out as well. The name, "Nectar of Life," honors the hummingbird, whose significance features prosperity, love, and independence.
This tiny bird is often believed to be a sign of good luck. The bird represents intelligence, healing, beauty, and love.
A fine bracelet, it is signed on the back with three stamps: The artist's name, "Helin", the MAG stamp, (Metal Arts Group) and the word "sterling." The cuff bracelet can be adjusted to fit the average wrist with some size variation possible through adjustment.
The bracelet is 3/4 inch wide.
Since Metal Arts Group has closed their doors, their pieces will likely go up in value and become collectible. Start by buying a discounted piece so you can begin  your collection with a bargain. My original price on this piece was $200.00, so a discount of $40.00 is generous.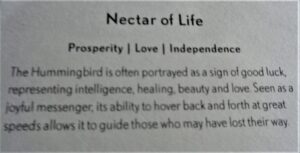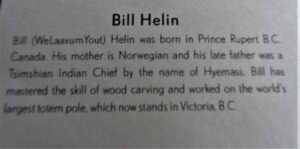 Only logged in customers who have purchased this product may leave a review.