Monkey Fist Earrings And Zipper Pull Made By Alaska Fisherman
$4.00
Description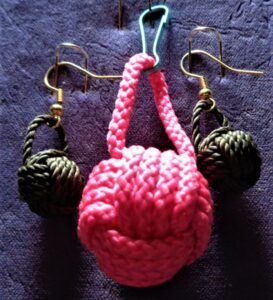 My Alaskan fisherman friend, Leo, made these monkey fist items. Leo worked as a fisherman for a long time, and when he wasn't out to sea, he worked in a cannery. He was known as one of the best filleters to ever cut a fish — fast, precise, and clean.
Leo said that when they went out fishing, there were times when they didn't fish, such as travel-time to the fishing grounds. When Leo had time on his hands, he tied monkey fist knots.
Now you can benefit from his labors with this unique pair of earrings and a zipper pull for your jacket. Enjoy a bit of Alaska with this selection.
Only logged in customers who have purchased this product may leave a review.