Large Jasper Tongue Pendant With Citrine And Rhodocrosite
$83.00
Description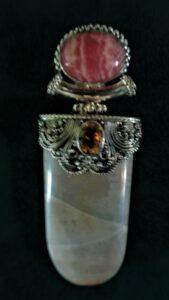 Here you will see another jasper pendant, the stone hand-cut in the village of Batu Belig, located near Kerobokan, Bali.
The large jasper stone, itself a neutral color with lines and shades of brownish-grey color, exhibits a small bit of red-orange at its base. The stone, being rather plain, lends itself well to its elaborate Indonesian silver bale with the traditional granulated silver pattern and fine wire curlicues.
Set in the bale is a large faceted citrine stone, measuring 3/8 inch high by 1/4 inch wide. A hinge attaches the tongue to the top piece. This one features a curved silver tube for the chain and a large rhodocrosite stone set above it. Both the silver tube and the edge of the stone's bezel are decorated with drops of granulated  silver.
The large, rounded oval rhodocrosite stone is set lengthwise, so the lines of white markings in the stone show as horizontal accents. The stone measures 5/8 inch long by 1/2 inch wide. Total length of the pendant comes in at three inches long.
Only logged in customers who have purchased this product may leave a review.