Jade World Pendant, Diamond-Cut Sterling Rope Chain
$35.00
Description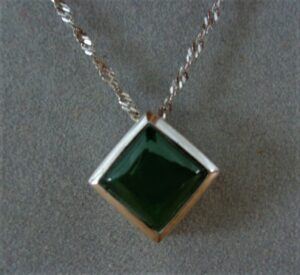 From Jade World in Canada, suppliers of fine jade jewelry, comes this attractive necklace. The jade, a square cut in a sterling bezel, is set to provide a diamond shaped stone on the necklace.
The chain is an 18 inch long rope chain that sparkles when the light hits it, as it is diamond-cut.
The square stone with bezel measures 1/2 inch on every side. It's small enough to avoid being ostentatious, but large enough to create a great look.
Only logged in customers who have purchased this product may leave a review.