Hummingbird Jewelry Box From The Heartwood Designer Collection
$130.00
Out of stock
Description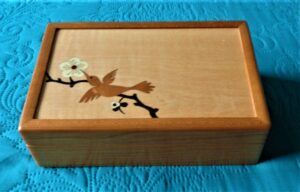 Created with precision marquetry, this lovely jewelry box will hold your treasures securely. Exotic woods included in these hummingbird-design boxes include cherry wood, maple, wenge, bloodwood, and tiger maple.
The inlaid hummingbird on the top is beautifully executed, creating a box that you will be proud to use in your home.
The inside dividers of the box are adjustable. Each of the ring or earring organizers can be moved by gently squeezing the top, as with an accordion. This move releases the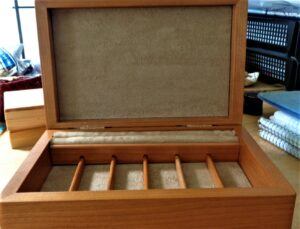 center horizon dividers, so you can pivot them out and change their placement in the box. Thus, it can be rearranged to fit your personal collection.
The plush lining of the box will cradle your precious items in a protective fashion.
This jewelry box measures 10 inches long by six inches wide by 2-3/4 inches deep.
Select this one for yourself or for an outstanding gift for a loved one.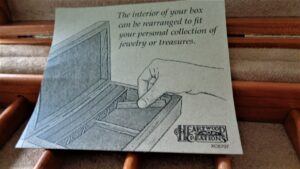 Only logged in customers who have purchased this product may leave a review.