Holly Yashi Niobium Pansy Post Earrings, Swarovski Crystal
$29.00
Out of stock
Description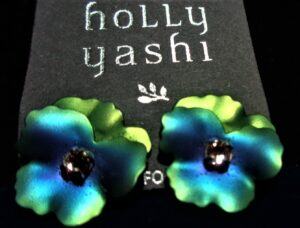 This pair of pansy earrings feature blue centers shading to outer green edges. A petal in the back of the main blue-green flower is a solid grass-green color. The center is formed from a small Swarovski crystal.
The earrings are made of niobium, Holly Yashi's signature metal. They are formed in the same pattern as the blue niobium pansies, also shown.
They measure 1-1/8 inches long by 5/8 inch wide. The post wires are gold-fill, with a round disc back that keeps the earrings tight against the ear.
Timeless style makes these earrings a good buy at any time of the year.
Only logged in customers who have purchased this product may leave a review.