Holly Yashi Niobium Golden Tiger Cat Earrings, French Hooks
$24.00
Out of stock
Description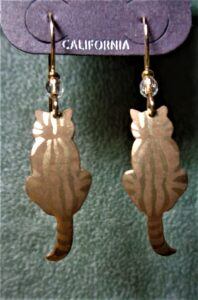 Holly Yashi does it again! She has created some very cute cat earrings, and this is the last pair I have in stock. These golden tiger cats are niobium with French hooks. The earring wires are gold-filled.
Most cat jewelry I have found looked like a caricature of a cat, not the beautiful animal I know. Therefore, I have not purchased many. Once in a while, as with these Holly Yashi cats, I will find a cute pair and add it to my stock. This is, I believe, my last pair of cats.
These earrings measure 1-1/4 inch long from where the wire attaches to the head, to the end of the cat's tale. At their widest they measure 7/16 inches.
If you love cats, these may be purrfect.
Only logged in customers who have purchased this product may leave a review.