Adajio Layered Royal Purple And Silver Earrings, French Hooks
$15.00
Description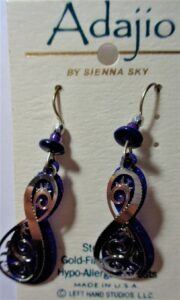 Adajio returns with earrings featuring French hook hypoallergenic silver wires. These earrings are made in two layers cut in the same shape. The solid royal purple background piece has a sparkly finish. The top silver piece, shaped like a figure eight, features cut-out curlique designs. These allow the purple background to shine through.
This earring measures 1 5/8 inches long, and 1/2 inch wide at the widest point. At the top is a small, flat blue disc bead, with two tiny blue glass beads above it, and one silver one.
Only logged in customers who have purchased this product may leave a review.