Holly Yashi Green Niobium Flower Earrings, Calcite Centers
$28.00
Out of stock
Description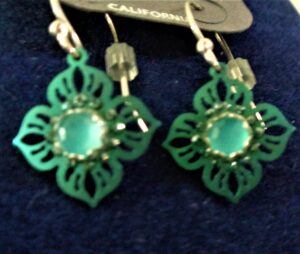 These dainty Holly Yashi earrings on sterling French hooks, though simple, show great detail. The earring is shaped as a four-petal flower of green niobium. The flower petals are pierced with a pattern of openings, which look like the veins of the leaves.
These piercings also let the light shine through.
The center stone is a round piece of green calcite. This stone is set in a silver bezel with scalloped edges. At the base of the bezel on the niobium itself are dark green  sprinkled sparkly dots.
Only logged in customers who have purchased this product may leave a review.