Sale!
Hand-Made Porcupine Quill Earrings, Purple And Blue Beads
Description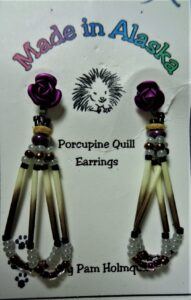 Here's a new pair of porcupine quill earrings from artist Pam Holmquist from Alaska. These feature a deep purple flower at the top, covering the earring post, and purple and pale blue beads on either side of the quills.
These are the first pair of quill earrings to be marked down from their original boutique price. The original retail is $22.00. Other pairs offered in the Costume Jewelry category were marked at $15.00. Now, all pairs have been marked down to $12.00.
If you would like to purchase other pairs offered, please note that now they are all marked down to $12.00. Stock up while they're available.
Only logged in customers who have purchased this product may leave a review.