Hand-Assembled Copper And Lime Green Resin Post Earrings
$3.00
Description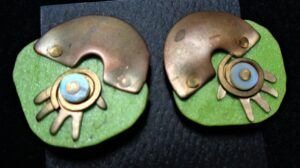 I must admit to doing some guessing on this pair. You can take this information as that — guesswork — and hopefully it's close to the truth.
On this earring, the top half-circle piece on the front and the hand with its spiral design appear to be copper. In the center of the palm of the hand where the spiral is located, you will see what appears to be a small round circle of shell.
The hand and the large copper piece are attached to what I think is a resin in a lime green color. Turn it over — the earring is backed with another piece of copper.
You can see a small spot on the copper on one earring. I tried some Brasso on it, but it didn't come off. However, it cleaned the copper up quite nicely, so did the other earring as well.
The posts appear to be surgical steel wire. They are fastened in place on the ear with a back that has a round plastic flange that allows the piece to sit close to the ear.
These earrings measure one inch wide at their widest point, and one inch high.
Only logged in customers who have purchased this product may leave a review.