Sale!
Green Quartz Pendant Cut As Crystal; Silver Bale
Description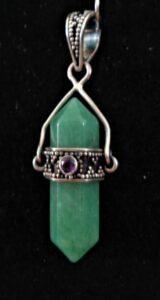 Here is a green quartz pendant, cut in the shape of a crystal. Though lovely, this piece is most likely a stone cut in a crystal shape, though it is, indeed, green quartz.
A band of Indonesian silverwork clasps the piece, and supplies wire supports for the bale at the top. Both band and bale are decorated with granulated silver drops. A tiny stone of amethyst is set in the band that fits around the pendant.
Quartz has a great significance for the wearer. In all its forms, this stone helps heal many ailments, whether mental, physical, or spiritual. You could find it quite beneficial to wear.
The pendant, from the top of the bale to the base of the crystal measures 1-3/4 inches long. The crystal itself measures 1-1/4 inches long.
Only logged in customers who have purchased this product may leave a review.