Golden Dangle French Hook Flower Earrings, Gold Fill Wires
$5.00
Description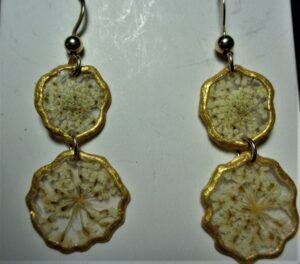 These attractive earrings appear hand-made, as they have a slight size difference. Though fairly long, they are extremely light-weight.
I believe the two attached circles on each earring consist of flower parts pressed between thin layers of plastic, and then held together with the gold edge.
The two circles, smaller at top, are hooked together with a wavy gold-colored border material. I do not know what it is made of.
These earrings measure 1-1/4 inches long. One side is slightly shorter than the other; maybe by 1/16 inch. However, with your head in between, I doubt that anyone will notice. The larger circle on the bottom measures 5/8 inch across. The top circle measures 1/2 inch across.
These summery earrings will create a great climate, no matter what time of year you wear them.
Only logged in customers who have purchased this product may leave a review.