Fluorite Tongue Pendant In Silver Frame, Large Garnet At Top
$39.00
Description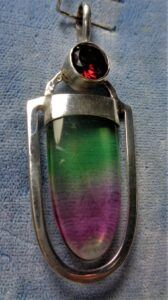 This piece of Indonesian silverwork is quite unusual. The fluorite tongue is set in a smooth silver bezel. At each edge of the bezel extends a narrow, flat "frame" that encircles the stone, giving it protection from any sharp blow that could damage it.
This framework is a smooth silver like the bezel itself, and provides a most attractive way to encircle the tongue-shaped stone. The tongue has a nice pattern of color, going from green to lavendar to purple and then back to green.
Above the fluorite and attached to the silver framework by "wings" of flat silver, a smooth bezel holds a deep-red faceted garnet.
Above the garnet and still attached to the silver framework is a generous bale of large, heavy-duty silver wire, ample for chain or cord.
From the top of the bale to the base of the pendant measures 5/8 inch wide at its widest. With the frame, the pendant measures 7/8 inch wide. The garnet stone measures 1/4 inch across its round surface.
Only logged in customers who have purchased this product may leave a review.