Colorful Pin Brings Alaskan Iceworm Story To Life
$4.00
Description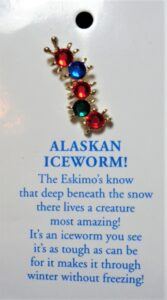 Yes, the iceworm actually exists, though not as colorful as this specimen. These small creatures are related to common earthworms and leaches.
Small and slim, it only measures one to three centimeters long. It's dark brown or black, like a mini-earthworm. It can live quite successfully inside glaciers, and cannot handle the sunlight.
This iceworm pin, with its bright red, blue, and green stones, is set in a gold-colored casting. It has a single post with a clamp-on back. It measures 1-1/8 inches long and 5/8 inch wide.
Only logged in customers who have purchased this product may leave a review.