Chunky Natural Quartz Pendant, Quarter-Moon Silver Top
$18.00
Description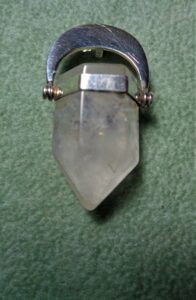 Here is a natural crystal that has been made into a pendant, with a very unusual silver finding. A narrow, flat silver band wraps around the five-sided crystal. Attached to it is a quarter-moon shaped piece of silver, set on its side.
Instead of the traditional bale, a square silver loop is soldered to the back of the moon-shaped piece. Chain or cord attaches from here.
Wear this natural crystal to absorb all the power it creates, as it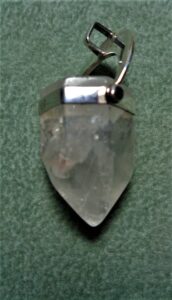 has a marvelous ability to store, release, and regulate energy.
You may never know what ailments it might heal within you.
Only logged in customers who have purchased this product may leave a review.