Cherry Wood Quote Box, Handmade At Heartwood Creations
$14.00
Description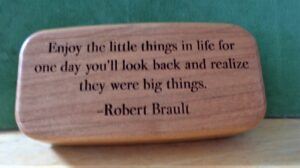 The Heartwood Company produces these wonderful cherry wood boxes with a famous quote cut into the top. The box has the traditional Heartwood sliding top, which serves as a nice camouflage.
The top lid is cut to match the grain of the rest of the box as closely as possible. When the box sits on a table or other surface with the lid closed, it could easily be considered a block of wood, not a box. Sometimes people can't believe it really opens.
The catalog measurements of this box are accurate.  It measures two inches wide, four inches long, and 3/4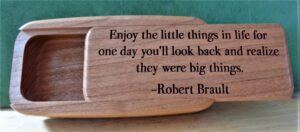 inch wide.
Choose this box to hold something precious, or perhaps you might find the quote especially fitting for a friend. If that's the case, it makes a wonderful gift.
Only logged in customers who have purchased this product may leave a review.