Celluloid Clip Earrings, 12 KT Gold Fill Leaves, Signed Winard
$20.00
Description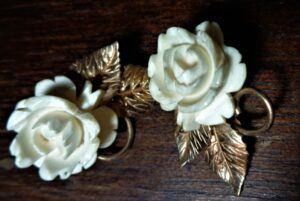 The Winard company, a premier costume and fine jewelry establishment, was well-known for their gold-fill pieces from the 40s and the 50s. Here is a fine pair of Winard earrings for your collecting and wearing pleasure.
These molded celluloid roses with their lovely gold leaves can be a welcome addition to your jewelry selection, especially if you still wear clip-on earrings.
Even if you now have pierced ears, these collectibles would still look lovely and would still be fashionable, even though they are vintage pieces.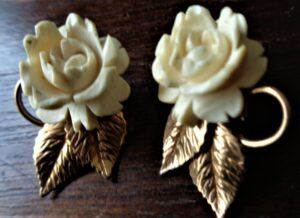 The leaves on these celluloid flowers are 12-karat gold fill, and even after all the years they have been in storage, the gold leaves are still bright and shiny.
From leaf-tip to rose's edge, these earrings measure 1-1/2 inches long. The rose measures 3/4 inch wide.
Only logged in customers who have purchased this product may leave a review.