Boma Sterling, Green Turquoise Pendant, Sterling Box Chain
$38.00
Description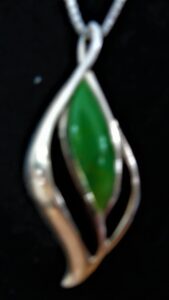 Would you like a piece of bright green turquoise set in sterling? This free-form pendant is shaped almost like a leaf, and the green turquoise adds to the illusion.
From Boma Jewelry in Renton, Washington, comes this necklace with its lovely leaf-like shape in sterling silver. The long, rounded turquoise stone is fitted nicely into its silver framework.
The fine sterling box chain measures 18 inches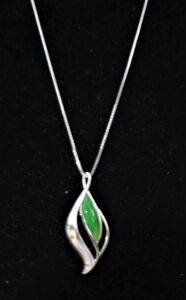 long. The pendant measures 1-1/2 inches long by 5/8 inch wide at its widest. The green turquoise piece measures 5/8 inch long by 1/4 inch at its widest. The pendant is stamped "925" and "Boma" on the back.
Only logged in customers who have purchased this product may leave a review.