Boma Sterling And Lapis Necklace, Sterling Chain
$44.00
Description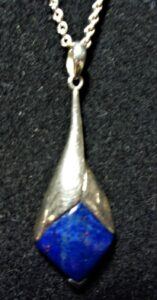 Lapis is so elegant, I think — perhaps it's because I love the color, cobalt. This lapis piece comes from Bomac International in Renton, Washington, known by those of us who love them as Boma.
The lapis is set in a very interesting sterling frame. It's a bit like a cornucopia. The silver frame encloses the lapis, and has been left open at the back so the stone can breathe. The appearance creates the illusion of a flower bud, just starting to open. Lovely!
This piece comes with a sterling chain. If fastened at the end, it is 19 inches long, but a small ring placed an inch in from the chain end allows you to shorten it to 18 inches if you so desire.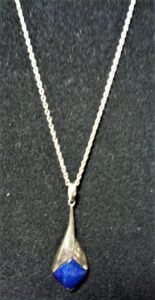 The pendant itself, including silver frame and stone, measures 1-1/2 inches long and 1/2 inch wide at its widest. The lapis stone, what is shown of it, measures 1/2 inch high and 1/2 inch wide. The pendant is stamped "925" and "Boma" in the silver on the back.
Only logged in customers who have purchased this product may leave a review.