Block Printed Bear Track Bracelet By Catherine Joan Petersen
$22.00
Description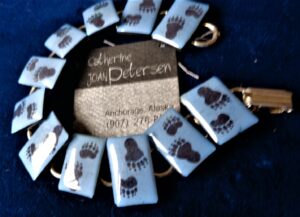 This lovely powder-blue bracelet with a black bear paw design was created by Catherine Joan Petersen. Originally from Scotland, she has lived in Alaska for many years, and creates designs imspired by her Alaskan experience.
To make these pieces, Catherine first sketches the design and then

hand-carves it into the block. The base layer of polymer goes over the design; then a thick layer of resin gives the piece a glossy, luminous appearance. Yet, the finished item does not have the weight of glass.
The finished length of this bracelet  measures 7-1/4 inches long. The individual blocks measure 3/4 inch high by 1/2 inch wide. This lovely, light-weight bracelet becomes a fine tribute to one of our important residents.
Only logged in customers who have purchased this product may leave a review.