Adajio True-Red Earrings, Silver Overlay, Small Red Accent
$12.00
Description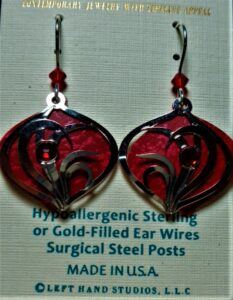 It's often hard to find an earring to match a red outfit. If you need such a pair, here you have them. They come from Adajio Studios in Colorado.
The bulbous-shaped red base piece is a mottled true red color. The shape reminds me of a Christmas ornament.
Over the top of the red base is placed a layer of cut-out silver curlicues, spaced so that much of the red shows through. This piece holds a tiny round red stone, probably a crystal, at the center.
Where the earring attaches to the sterling wire you will see a tiny red bead, tying in to the color scheme.
These earrings measure 3/4 inch from the attached ear wire to the base of the earring. At their widest, they measure 3/4 inch across.
Only logged in customers who have purchased this product may leave a review.