Adajio Earrings Of Overlapping Rectangles, 3 Shades Of Blue
$11.00
Out of stock
Description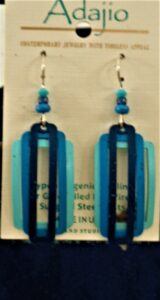 These long earrings from Adajio, one of the companies in the Left Hand Studios family, feature a distinctive design of overlapping rectangles created with narrow, flat metal framing in three shades of blue.
The base layer is the lightest blue, and is wider and shorter than the top layer. For that top layer, two rectangular frames are fastened together. The base of this double layer is a sky-blue rectangle, narrower and a bit longer than the light blue base layer. Over it and attached to it is the longest and narrowest of the rectangles. The color of this one is navy blue.
Above the rectangles and attached to the end of the earwire before it fastens to the earring are three small beads, mimicking the colors of the rectangles below them.
These rectangles, from where they attach to the wire, measure 1-3/8 inches long. At the widest, they measure 11/16 inch wide.
Only logged in customers who have purchased this product may leave a review.