Abalone Teardrop Earrings Set In Sterling, French Hooks
$12.00
Description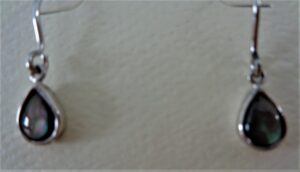 These dainty teardrop-shaped abalone earrings come from Jade World in Canada. The abalone resides in a sterling bezel that sets off the abalone pieces beautifully. The pieces reflect a great deal of light.
Long sterling French hook wires complete the earring. The abalone teardrops are 3/8 inch long from point to base. On the back of the earrings is a 925 sterling stamp and a maker's mark.
If you like your jewelry small yet shining with light, this is the pair for you.
Only logged in customers who have purchased this product may leave a review.