Zealandia Mammoth Ivory Bear Pendant, Silver Fish
$75.00
Out of stock
Description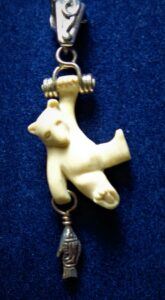 From an ancient piece of mammoth ivory, the carver created this marvelous little bear. With a paw, he hangs onto a "stirrup" attachment on the bale. In the other paw he carries a silver fish. It's always good to carry your own food supply when traveling.
Though the bear is small, the detail has been well-done. Even for his small size, he represents quality!
The silver bale is generous enough to hold a substantial chain or cord. The fish has detail of his own to show. This pendant is small but mighty.
The pendant measures two inches long from the top of the bale to the base of the fish. This little bear has lots of personality!
Only logged in customers who have purchased this product may leave a review.